Chairman Wang Jianlin Spoke During the Promotion in Guangzhou
Mar 23,2011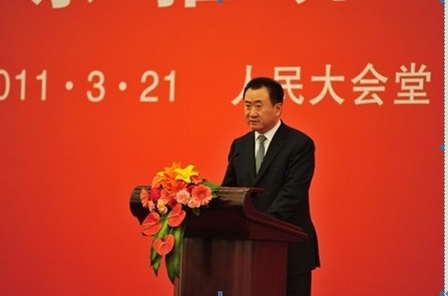 On 21 March, "Beijing Promotion: New Guangzhou-New Opportunities" was held at the Golden Hall of the Great Hall of the People. Chairman Wang Jianlin attended the promotional event and spoke on behalf of the private enterprises in Guangzhou. Zhang Cheng, Vice-Chairman of Dalian Wanda Commercial Properties Co., Ltd., attended the signing ceremony. Over 600 leaders and senior representatives from related national departments and committees, as well as domestic and overseas enterprises, such as Zhang Guangning, the Guangdong Provincial People's Congress and Secretary of the Guangzhou Municipal Committee of the CPC, as well as Guangzhou Mayor, Wan Qingliang, attended the promotional event. After the event, Chairman Wang Jianlin was interviewed by various media including CCTV.
Chairman Wang Jianlin started by saying that he was very honoured to speak on behalf of private enterprises.
At the same time, he mentioned that: Guangzhou is the focal city in southern China, and one of China's top three cities economically. As a world-renowned thousand-year-old city of commerce, and the starting point of the sea route to the Silk Road, Guangzhou has always been the sought-after city among businesses since ancient times. It can be said that investing in and building businesses in Guangzhou is a key wish among all entrepreneurs in China. In recent years, Guangzhou has entered a stage of rapid, all-round, and coordinated development. In particular, after successfully hosting the Asian Games, the city's brand name has become more well-known, its economy and culture more developed, its investment environment more favourable, and its future potentials, enhanced. The majority of the enterprises investing in Guangzhou have developed well and reaped reasonable returns.
At the end of 2009, Wanda Group invested in its first project in Guangzhou —— Baiyun Wanda Square. At the start of the project, Zhuang Guangning Comrade, Guangzhou Mayor at that time, requested that we opened for business during the Guangzhou Asian Games, which was a great challenge for us. There are two basement floors, and 12 floors above ground level, with a total floor area of 400,000 sqm at Baiyun Wanda Square. Super five-star hotels, Grade-A office buildings, large-scale commercial centres have been included in the project plan, one of the largest urban complexes in Guangzhou. In spite of this, we had only one year for construction. To ensure business could commence on schedule, local governments of Guangzhou city and Baiyunqu, by breaking conventions and giving the project special treatment due to the special circumstances, have given us the utmost support in all respects from project commencement to completion. Because of this, Baiyun Wanda Square was able to start construction on 10 February, and the grand opening was held on 17 December in the same year, creating the "Guangzhou speed" in the construction of China's large-scale commercial facilities. Even better is that, since opening, customer traffic and revenue of Baiyun Wanda Square have exceeded expectations significantly. For example, the movie theatre was among the top five in revenue among nation-wide movie theatres in the three months since its opening, creating a record for China's newly opened movie theatres. Operating revenue from individual shops among the over 30 restaurants inside the Square has always been among the top in the 40-plus Wanda Squares in China. Not only has Wanda gained in reputation and profits through investing in Baiyun Wanda Square, we further recognized the great opportunities in investing in Guangzhou. Therefore, Wanda Group has decided to continue expanding our investments in Guangzhou under the current macroeconomic tightening, and plans to invest RMB 30 billion in Guangzhou within five years, further building five Wanda Squares. By then, not only will this bring 50,000 new urban jobs and over RMB 1 billion in tax income to Guangzhou, but more importantly, this will also make important contributions in Guangzhou's transformation and upgrade, developing modern service industries, and increasing the happiness index of Guangzhou residents.
Chairman Wang Jianlin believes that: Currently, the private economy already represents half of China's economy, and its proportion is still increasing every year. It is expected that in the foreseeable future, the private economy will become key in China's economy. After years of development, a considerable portion of the private enterprises have grown into sizeable, strong, branded and reputable enterprises. At the same time, investment projects of private enterprises also possess characteristics such as quick decision-making, quick investments, and quick results, and hence, have become a new force not to be ignored when attracting new businesses and new capital. We hope that the city of Guangzhou will put as much emphasis on private enterprises as that on the world's largest corporations under Fortune 500, and as that on central enterprises, and strive to bring in strong private enterprises to Guangzhou. We believe that private enterprises will make huge contributions in building a "Happy Guangzhou".
Lastly, Chairman Wang Jianlin expressed his sincere thanks to the city of Guangzhou, and wished the "Beijing Promotion: New Guangzhou-New Opportunities" a huge success.