Wang Jianlin Shares View on Private Economy and the Development of Private Enterprises in Wuhan
Jun 02,2011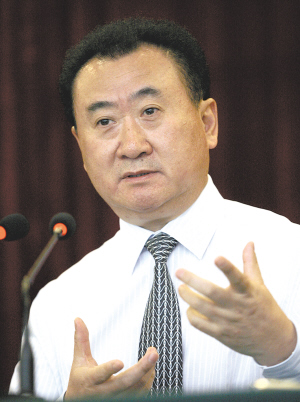 Dalian Wanda started off with only RMB 500 thousand registered capital; after 23 years' growth, it has gradually grown into a company with over RMB 100 billion sales. What was the secret of the success? CPPCC Standing Committee Member, ACFIC Vice-President, Dalian Wanda Group Chairman Wang Jianlin delivered a speech on Private Economy and the Development of Private Enterprises, and described in detail Wanda Group's rapid growth to over 200 attendees from financial, tax, accounting and other fields from all over the province.
According to Wang Jianlin, there were four key attributes to Wanda's success:
1. Innovate the models; seize the opportunities. By innovating the product model, Wanda became the first company to engage in the transformation of the old urban and rural areas in China, through which it established its own business model, won the trust from the government, and completed the starting phase of the company. By creating new regional development strategy, Wanda grew from the first interregional property developer in the country to a property developer with the biggest interregional markets. By innovating business model, management model, and sales and marketing model, Wanda achieved leaps and bounds growth and established its core competitive advantage. By redirecting the development of cultural business, Wanda has become the company with the largest investment in culture-related business for four consecutive years, and entered a whole new stage for corporate development.
2. Operate with integrity; eye on solid growth. Wang Jianlin said, "Operating with integrity is the nuclear weapon for corporate development." Wanda has strived to establish integrity as the corporate culture, and set up integrity guidelines; it's committed to be responsible to consumers and achieve mutual growth with partners. The idea is well captured by 'Be honest as a person and be shrewd in doing business' and 'Create wealth together, and benefit public welfare'. Wanda seeks to make itself a long-lived company and is diligently working towards the goal.
3. Control the risk; grow steadily. Wanda had 15 commercial plazas, 7 five-star hotels, 23 cinemas opened last year, and 17 commercial plazas, 12 six-star hotels, over 10 department stores and 26 cinemas will be opened this year. Wan Jianlin was keeping a clear mind: "The two major problems brought by the fast expansion are capital risk and management risk." How should the company respond? Wang Jianlin's way was to set up risk management system and pay close attention to the cash flow. Wanda introduced the world-leading Mirae REITS. Project assessment system, and based on which they made a problematic design list on the projects in development. Wanda takes cash flow as its lifeline. Wang Jianlin stressed that "Sales is of prime importance, cash flow is to complement' and 'Cash flow is more important than debt ratio'.
4. Fulfill responsibilities; achieve better growth. Rather than the above mentioned issues in company management practice, this was Wan Jianlin's understanding formed in the company development. He said, "An enterprise needs to pay attention to social responsibility if it was to seek better and long term growth." In this regard, Wanda has been committed to operate in compliance with laws, take care of employees, care about environmental protection, and actively engage in charities, as it has always born in mind the responsibilities of a corporate citizen.
Before he finished the speech, Wan Jianlin sincerely said to the attendees: "Small victory is brought by intelligence, big victory is brought by integrity. Integrity is what brings business partners along to you and assist you to achieve long term growth." The simple and plain words captured the core value concept of Dalian Wanda's growth in the last 23 years, and were broadly recognized by the attendees. ( Reporter Xu Chunchun)
Note: The article is taken from media report; the view expressed in the article is notrepresentative of Wanda's opinion.