Langfang Wanda Plaza Held Opening Ceremony
Nov 11,2011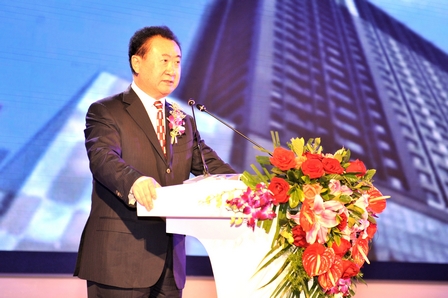 Chairman Wangjianlin spoke on the opening ceremony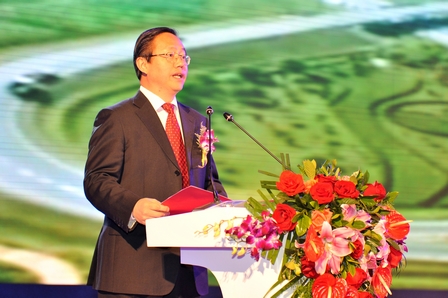 Zhao Shihong, Party secretary of Langfang Municipal City, spoke on the opening ceremony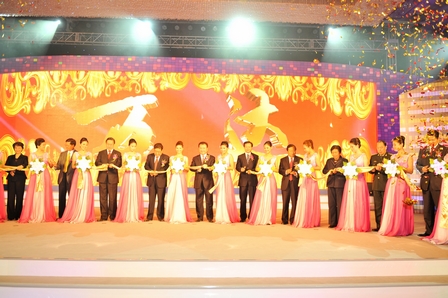 the ribbon-cutting ceremony
Wanda Group donated RMB 300,000 to Langfang Charity Federation
On November 11, people joyfully crowded into the Langfang Wanda Plaza to celebrate the grand opening of Langfang Wanda Plaza. Liu Yongrui, Member of the Standing Committee of Hebei Provincial CPC, Minister of United Front Work Department of the CPC Hebei Province Committee, Zhao Shihong, Party secretary of Langfang Municipal City, Wang Aimin, Mayor of Lanfang Municipal City, Wu Xiaolin, Deputy Party secretary of Langfang, Zhang Suzhen, Chairwoman of the Standing Committee of the Municipal People's Congress, Kou Desong, Chairman of Langafang People's Political Consultative Committee, and Chairman of Wanda Group Wang Jianlin attended the opening and ribbon-cutting ceremony. At the ceremony, Wanda Group donated RMB 300,000 to Langfang Charity Federation.
Langfang Wanda Plaza is by far the largest urban complex of highest level with largest investment and richest content in Langfang. It consists of shopping mall, five-star hotel, 5A office building and apartment. It is a landmark site in Langfang. Wanda shopping mall has more than 100 franchise stores including Van's Department Store, Wanda Cinemas, Dagexing KTV and Carrefour. Zara, Uniqlo, Starbucks, Sephora made their first appearance in Langfang. The shopping mall incorporates shopping, recreation, entertainment and food to provide one-stop services to meet the different demands of consumers. Double Tree by Hilton (Wanda) is the first five-star hotel in Langfang. It has 295 deluxe rooms and 1100 square meters of ball room and excellent meeting facility.
Langfang Wanda Plaza becomes the most important commercial center the minute it is open for business. It elevated commercial level in Langfang and effectively spurred consumption. The opening of Wanda Plaza also has generated thousands of stable jobs and millions of taxes for the city, bringing in huge social and economic benefits.
By now, Wanda Group has developed 3 urban complexes including Shijianzhuang Yuhua Wanda Plaza, Tangshan Lunan Wanda Plaza and Langfang Wanda Plaza. Yuhua Wanda Plaza has been open for business since September 23. Tangshan Wanda Plaza is due to open soon. Langfang Wanda Plaza is the 11th plaza opened this year. 16 Wanda Plazas and 12 five-star hotels has been opened for business within this year. Now Wanda Group has opened a total of 49 Wanda Plazas and 27 five-star hotels. The floor space that generate rental reaches 10 million square meters.