Ding Benxi, President of Wanda, Visited Daqing Saertu Project
Nov 21,2011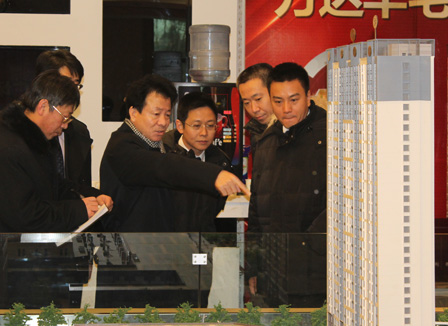 On November 18, Ding Benxi, President of Dalian Wanda Commercial Properties Co., Ltd. visited Daqing Saertu Project Company and gave guidance for ongoing projects.
President Ding visited Sheraton Hotel, Commercial Pedestrian Street, Van's Department Store, the landmark projects in Wanda Square which was opening soon to see the decoration progress. He required all work to be done properly according to the opening schedule. At the conduction site, President Ding paid special attention to the lounges in office buildings, the construction progress of residential buildings. He demanded that all work should be done according to the construction plan. In the residential sales office, President Ding carefully reviews the project sandbox model and apartment model room, and gave his opinions for rectification.
In the following meeting, President Ding stressed that Daqing Saertu Project Company shall update their way of thinking to focus on consolidated efforts in marketing. He also remarked that problems encountered in planning and design should be properly addresses. Everyone should take ownership of his job without leaving any loose ends. He also mentioned that it is necessary to optimize and balance the budget so as to ensure cash flow. In addition, he said that project company and business management company should strengthen collaboration to ensure a quality business opening on time.