Wuhan celebrates openings of Wanda Plaza, Wanda Realm and Madame Tussauds
Sep 28,2013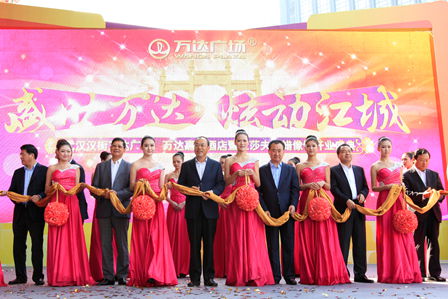 Officials cut the ribbon at the opening ceremony.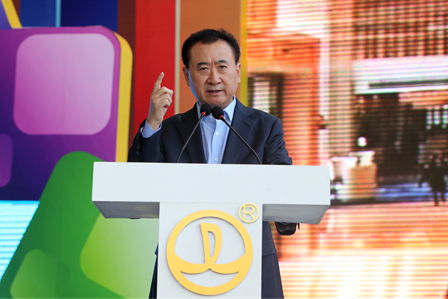 Wanda Group Chairman Wang Jianlin addresses the opening ceremony.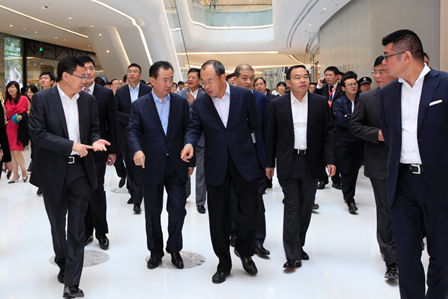 Wanda Group Chairman Wang Jianlin visits the Han Street Wanda Plaza.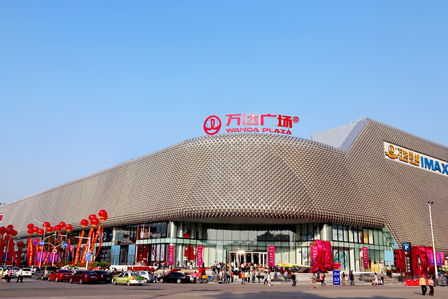 The panorama of the Han Street Wanda Plaza.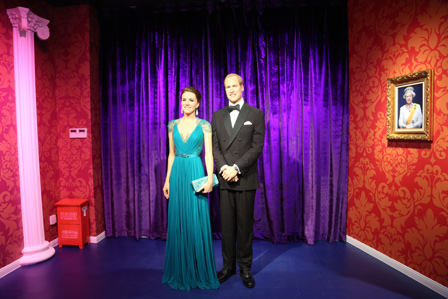 The waxworks of Prince William and Kate Middleton are displayed at the Madame Tussauds's Wuhan museum.
Wuhan in Central China's Hubei Province celebrated the openings of the Han Street Wanda Plaza, the Wanda Realm Hotel and the Madame Tussauds wax museum on September 28.
Officials including Wuhan Party Secretary Ruan Chengfa, Mayor Tang Liangzhi and Wanda Group Chairman Wang Jianlin attended the opening ceremony.
The plaza is located to the south of the Han Street in Wuchang District and comprises a commercial center, Wanda's Superstar KTV, a flagship Wanda Department Store and a cinema which can accommodate 3,000 audiences. The department store, which occupies more than 70% of the plaza's area, will serve the high-end customers with world's big name brands, such as BottegaVeneta, Balmain, Kinloch Anderson, Moneta, Roberto Cavalli, Lindberg, Swarovski, Estée Lauder, Sisley, Clarins, SK-II and Jurlique.
The construction costs of the Han Street Wanda Plaza are triple that of other Wanda Plazas. It is in the axis of the Wuhan Central Culture District and boasts the most magnificent facade, the most expensive costs, the most beautiful night scene and the largest IMAX cinema in China.
The Wanda Realm Wuhan is Wanda's first five-star hotel in Central China. It offers 409 deluxe and comfortable rooms and suites and various world-class dining experiences, featuring a wide range of international and local cuisines.
Madame Tussauds Wuhan also opened the same day in the Han Street. It is just five-minute walk from the Wanda Realm Hotel and the Han Street pedestrian promenade. Following the opening of museums in London, New York, Amsterdam, Las Vegas, Hong Kong, and Shanghai, Madame Tussauds Wuhan will become the 15th such in the world and the second in the Chinese mainland.
Madame Tussauds is a wax museum in London with branches in a number of major cities. It is the top brand of the wax museum, displaying waxworks of famous figures. There are 50 waxworks in the Wuhan museum of famous international and domestic politicians, sport stars, artists, musicians and historical celebrities, including Jackie Chan, Jay Chou, Sandra Ng Kwan Yu, Kate Winslet, Michael Jackson, Johnny Deep, Albert Einstein and Rihanna.
The Wuhan Central Culture District, which houses the Han Street, is a multifunctional world-class cultural tourism project that represents the highest level of Wanda Group's cultural tourism projects.
The openings of the three projects will change the city's business landscape by upgrading the overall grade of its business mode, shopping environment and service quality and elevate Wuhan to an international destination for doing business and for consumers.
During the opening ceremony, Wanda pledged a donation of 500,000 yuan to the Wuhan Charity Federation, which will be used to help poor students.