Wang Jianlin meets Guangxi Chairman, pledges to invest 20b yuan in Nanning
Oct 14,2013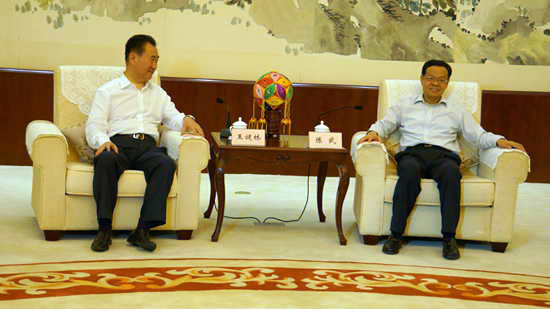 Wang Jianlin meets with Chen Wu, Chairman of Guangxi Zhuang Autonomous Region.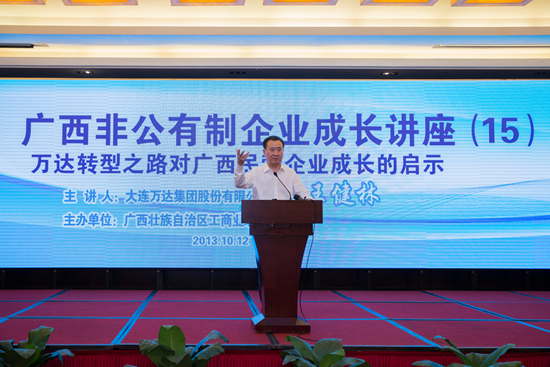 Wang Jianlin gives a lecture to entrepreneurs of Guangxi private companies.
Wanda Group Chairman Wang Jianlin met with Chen Wu, Chairman of South China's Guangxi Zhuang Autonomous Region and Yu Yuanhui, Nanning Party Secretary in Nanning on October 12.
Wang pledged to invest more than 50 billion yuan ($8.18 billion) in Guangxi in the next three years on new cultural tourism projects and large urban complexes.
Of the total investment, 20 billion yuan will be allocated to construction of three new plazas in the capital city Nanning, according to an Overall Strategic Cooperation Framework Agreement signed with Nanning Municipal Government the same day.
Wang was also invited to give a lecture to entrepreneurs of Guangxi private companies and shared with the audience Wanda's experience on business mode transformation.
Chen Wu spoke highly of Wanda's development in Guangxi for its unprecedented development speed, strong executive force, high product quality and scientific management system.
Wanda has set up an example for Guangxi enterprises and even the local government, said Chen, hoping Wanda will increase its investment in the region to promote the local economic development.