Wanda Culture Industry Group wins gold medal at Cross-Strait Cultural Industries Fair
Oct 28,2013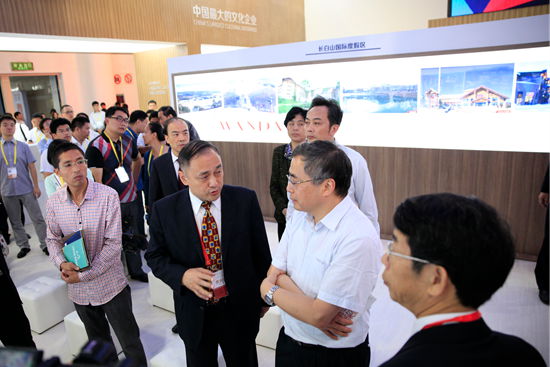 Vice Minister of Culture Xiang Zhaolun visits Wanda's booth at Cross-Strait Cultural Industries Fair
Wanda Culture Industry Group attended the sixth Cross-Strait Cultural Industries Fair held in Xiamen, Fujian Province from October 25 to 28.
Wanda Culture Industry Group, which is China's biggest culture enterprise, was awarded the gold medal for its exhibition display at the fair.
Officials including Xiang Zhaolun, Vice Minister of Culture, Yuan Rongxiang, member of the Standing Committee of the Provincial Party Committee of Fujian and Director of the Fujian Publicity Department, and Li Hong, Vice Governor of Fujian Province, visited Wanda's booth and spoke highly of Wanda's cultural tourism projects and well-planned exhibition.
Wanda Culture Industry Group's 315-square-meter booth was the largest corporate booth at the fair, displaying the group's achievements and key cultural tourism projects, such as the Qingdao Oriental Movie Metropolis, the Harbin Cultural Tourism City, the Nanchang Cultural Tourism City, the Wuhan Han Show Theater, Wuhan Film Park, Changbaishan International Resort and Xishuangbanna Theme Park.
The exhibition booth's 3D theater experience project was also a highlight that attracted many visitors.
A number of film, culture, entertainment and tourism companies expressed a willingness to engage in business cooperation with Wanda during the event.
Hu Zhanghong, Senior Vice President of Wanda Culture Industry Group outlined Wanda's investment and development situation to the Xiamen Vice Mayor Huang Qiang.
The fair was co-organized by Taiwan Affairs Office of the State Council, the Ministry of Culture, the State Administration of Press, Publication, Radio, Film and Television, and the Fujian Provincial Government. A total of 2,295 companies from both sides of the Straits attended the fair.