Wanda receives high international credit rating
Oct 30,2013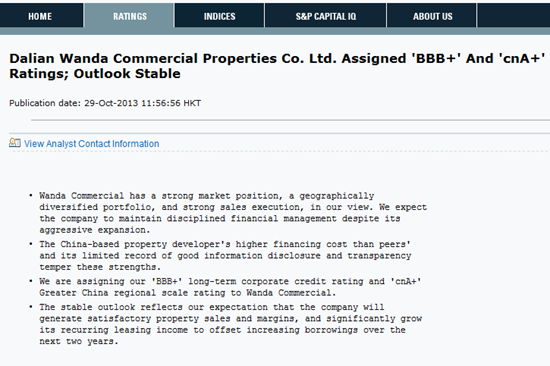 October 29th, the three largest credit rating agencies Standard & Poor, Moody's investors service and Fitch ratings posted ratings reports for Dalian Wanda Commercial Properties Co. Ltd (Herein referred to as Dalian Wanda Commercial Properties), respectively assigning long term corporate credit ratings of BBB+, Baa2, and BBB+ as well as a "positive outlook" for the company. These ratings make Wanda Commercial Properties one of the highest rated domestic real estate companies as well as the only private, non-listed recipient of this rating in China.
This is the first time Wanda Commercial Properties has been rated by international authoritative credit rating agencies as well as received investment-grade ratings from all 3 rating agencies. This shows the company's position as a leader in the domestic commercial real estate market, its unique business model, cross-regional development, cautious financial management, strong liquidity and strong sales execution capabilities has won it the approval and recognition of international capital markets. Further strengthening the company's competitive advantage will play a positive role in consolidating its place as the leader in its industry.
Standard & Poor, Moody's and Fitch are the world's top rated credit agencies, with a system that is seen as strict, objective, systematic and highly authoritative in the global capital markets arena.
According to Fitch's report, Wanda Commercial Properties Co Ltd, as China's largest commercial property developer, has the largest nationwide investment property portfolio in China. Wanda's ratings are supported by its strong and growing recurring cash flows from its shopping centers and hotels across the country. The company's flagship developments, named Wanda Plaza, enjoy high occupancy rates and continued rental rate growth and always open with 100% occupancy, reflecting management's strong execution capabilities. Wanda's well-established brand can always secure the prime location of a city for its new plaza project and attract high-level tenants.
Standard & Poor's report stated that as China's largest commercial real estate developer and world's second largest property holder, Wanda Commercial Properties possess a unique core product and good product mix, strong market position, diversified asset geographical distribution, strong sales execution capabilities and stringent prudent financial management system.
Wanda is likely to continue benefitting significantly from China's urbanization and income growth, said Fitch's report.
Moody's believes Wanda's unique business model makes the company's business more sustainable than those of its peers that focus mainly on residential development. Its Baa2 rating recognizes its strong track record for developing commercial properties in China, strong and sustainable income that can almost cover its interest expenses. The rating is also supported by its business model, which demonstrates strong cash flow from the company's development activities and enjoys growing recurring income from its investment properties.
In the past few years, Wanda has made a great leap forward in expanding its overseas footprint. The recognition of the world's top three rating agencies will make Wanda Commercial Properties better known among investors, fast-track its entry into international capital markets, and promote Wanda's internationalization and financing in the international capital markets arena.