Heilongjiang Party Secretary inspects Harbin Cultural Tourism City
Oct 31,2013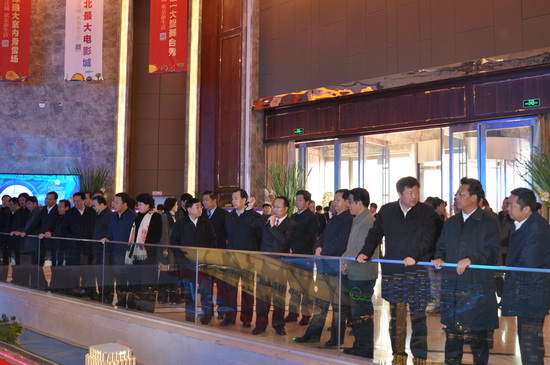 Heilongjiang Provincial Party Secretary Wang Xiankui, Heilongjiang Governor Lu Hao, Harbin Party Secretary Lin Duo, Heilongjiang Vice Governor Zhang Jianxing, Harbin Mayor Song Xibin and 70 other government leaders attended a site inspection tour of the Harbin Cultural Tourism City on October 29.
The provincial leaders asked questions related to the operations and management of the project and were given a tour of the construction site, praising Wanda for their execution speed during the process.
Officials were then shown a promotional video for the Wanda Cultural Tourism City to get a detailed understanding of the overall project design and layout.
Lu Hao mentioned that Wanda Cultural Tourism City will become Harbin's city center, its calling card and its new business district. Not only will it help to strengthen Harbin and Heilongjiang economy, but will also enhance and facilitate the process of international development in Heilongjiang through the advanced business models and cultural ideas it brings to the area.
Wanda Cultural Tourism City is the product of 4 years of planning and research by the Wanda Group and will be the first large scale cultural tourism commercial complex of its kind in the world. When it opens in 2017, it will be able to accommodate 50,000 visitors daily, with a maximum capacity of 100,000 visitors. It is expected to bring in 20 million visitors annually, create 30,000 direct employment opportunities and bring in 6 billion yuan in revenue. The Cultural Tourism City will play a major role in transforming Harbin's tourism industry.