Wanda Hotels & Resorts Wins Prestigious World Travel Market Global Award
Nov 09,2013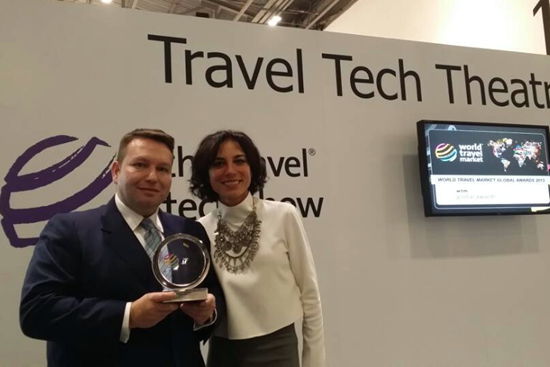 Wanda Hotel Management Company Vice President Ilja Poepper receives award
Wanda Hotels & Resorts has won a prestigious World Travel Market Global Award in recognition of its development of luxury hotels in China over the past 12 months.
World Travel Market, Head of Marketing & Communications, Micaela Juarez presented the award to Wanda Hotels & Resorts Vice-President Ilja Poepper and Sandy Yi, Marketing and Communications Director at today's (Monday 4 November) WTM Global Awards.
The Awards give WTM's Official Media Partners – which represent key travel industry media around the world – an excellent platform to congratulate and recognize those companies and individuals which have made the greatest contributions to travel and tourism in their region for that year.
Three nominations from each media partner were judged in September by a panel of three, including an independent body, a representative of WTM and the relevant media partner.
Wanda Hotels & Resorts has made a significant contribution to the luxury hotel sector in China over the past year. It has 34 five-star hotels in China, with brand awareness throughout the country. It aims to be the leading Chinese global luxury hotel management group by developing 100+ five-star owned hotels by 2015.
Reed Travel Exhibitions, Senior Director, World Travel Market, Simon Press said: "Wanda Hotels & Resorts are an unusual example of how Chinese luxury brands are developing, not only domestically but internationally. It looks to be an exciting investment for the future."