Wanda Plaza opens in Bengbu
Nov 30,2013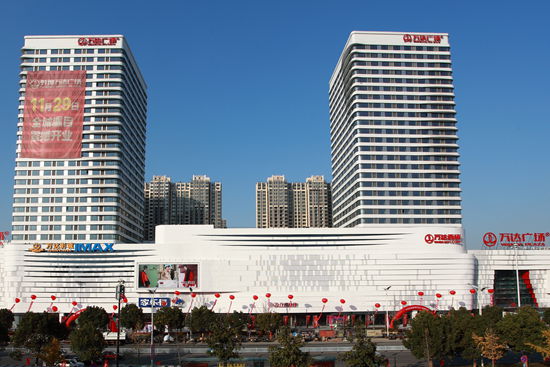 Bengbu Wanda Plaza exterior shot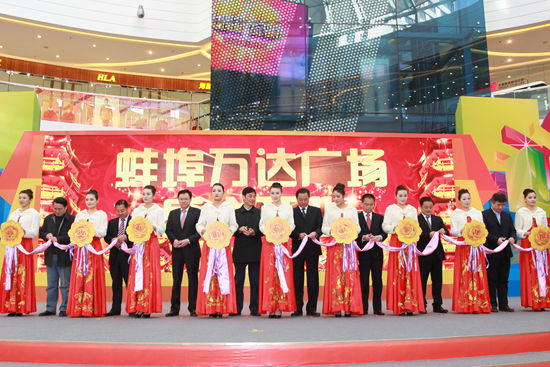 Guests partake in ribbon cutting ceremony
Wanda Group unveiled its latest project, the Bengbu Wanda Plaza in Anhui Province on November 29.
A number of local dignitaries attended the event such as He Jinliang, Chairman of the Standing Committee of Bengbu Municipal People's Congress, Gu Shiping, Chairman of Bengbu Committee of the Chinese People's Political Consultative Conference, and Qin Wu, Vice Mayor of Bengbu. Qu Dejun, Senior Vice Presidents of Wanda Commercial Properties Co Ltd, and Qu Xiaodong, Vice President of Wanda Commercial Properties Co Ltd, cut the ribbon at the ceremony.
Bengbu Wanda Plaza is the city's first large commercial complex and will provide a one-stop shopping experience for local residents. The project comprises a large-scale shopping mall, a Euro-style street, luxury apartments, SOHO apartments, high-end office buildings and a five-star hotel.
The plaza features big name retailers such as Wanda Department Stores, Wanda Cinemas, Superstar KTV, TISSOT, CASIO and many others. About 50% of the brands made their debut in Bengbu.
In terms of design, layout, shopping environment and tenant mix, Bengbu Wanda Plaza has set the benchmark standard for shopping centers in Bengbu.
The project will provide a number of stable jobs and 100 million yuan in taxes every year to the city, fuel the local economic development, give impetus to industrial transformation and upgrading, as well as stimulate service sector growth.