Wanda Realm enters Yinchuan in Ningxia Hui Autonomous Region
Dec 20,2013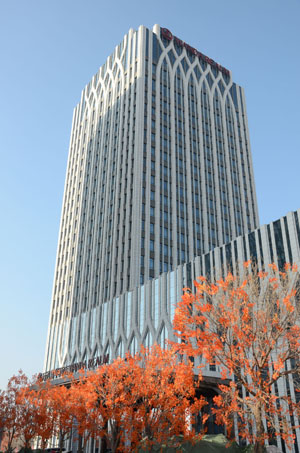 Wanda Realm Yinchuan exterior shot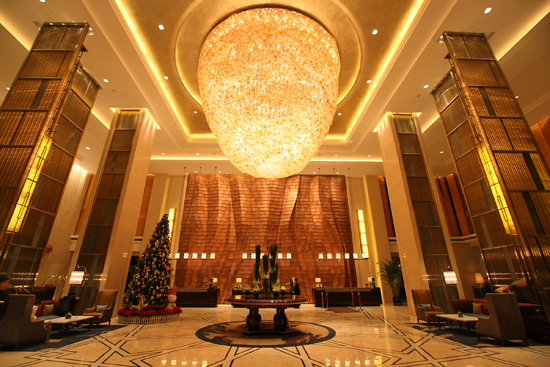 The lobby of Wanda Realm Yinchuan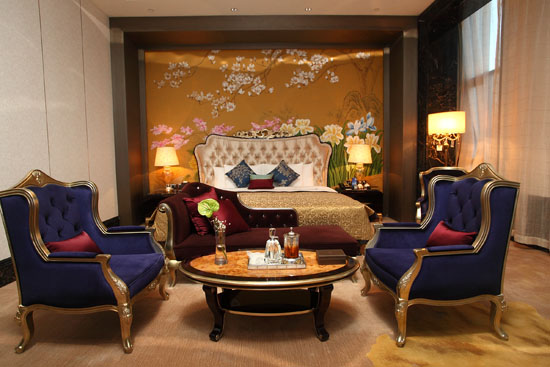 The presidential suite of Wanda Realm Yinchuan
Wanda Hotels and Resorts has announced that its eighth Wanda Realm branded hotel managed in China will be opened in Yinchuan on December 18, 2013.
As a warm and comfortable dream point for business travelers, Wanda Realm Yinchuan offers its guests an unforgettable journey and unique Oriental cuisine. This is especially for Chinese and foreign business travelers coming to Yinchuan, with fully reflecting the distinctive charm of the "Warm, Comfortable, Efficient".
Wanda Realm Yinchuan is located in the Jinfeng District. The hotel is a 30-minutes drive to Yinchuan Hedong International Airport, 10-minutes drive to Yinchuan Railway Station.
Experience the luxury of our 304 guestrooms and suites, each of which features our signature "Bed of Realm" and "Dream Catcher" for a perfect night's sleep. For your pleasure, the generous marble bathrooms are also equipped with a rainforest shower and separate bathtub. Complimentary high-speed internet access and an LCD TV with international satellite channels will ensure that you can remain connected throughout your stay.
Treat yourself to a world of culinary delights in the stylish restaurants at Wanda Realm Yinchuan. Choose from the sophistication of ZHEN Chinese Restaurant, relaxed all-day dining at Café Realm, the elegance of HE Japanese Restaurant, or the chic pleasures of our Lobby Lounge. The "24-hours Selections" in-room dining is also available.
For events large or small, Wanda Realm Yinchuan offers a selection of first-class venues including the regal 1,200m2 pillar-free Grand Ballroom, which features a 76m2 LED screen for inspirational presentations, entertainment and more. All meeting rooms are fully equipped with the latest audio-visual and multimedia facilities. You are also invited to enjoy the convenience of our one-stop "Exclusive Meeting Director" service.
Home to Yinchuan's finest health and leisure facilities, Wanda Realm Yinchuan is proud to help you relax and rejuvenate with a fully-equipped gym, indoor heated swimming pool, sauna and steam rooms, and an aerobic room. A hair salon is also available.
"Up until 2012, Wanda Hotels & Resorts has invested and opened 32 Wanda Hotels and six self-management brand hotels in China in collaboration with five international hotel management groups. There are a total of 16 luxury hotels, of which 9 self-management brand hotels will be opened in 2013. By 2014, we will have 39 hotels contracted out, and 34 self-management brand hotels in major global portal cities such as Beijing, Shanghai and Yinchuan. By 2015, the number of hotels under the Wanda Hotels & Resorts umbrella will reach over 100. Wanda Group has announced that it will spend 700 million pounds on the construction of a 5-star London Hotel, and Wanda Group will own managed hotels in 8-10 major cities in the world. We believe that Wanda Realm Yinchuan would be with more infinite vitality to Yinchuan," said Mr. Ilja Poepper, the vice president of Wanda Hotels and Resorts.
"Yinchuan is capital of Ningxia Hui Autonomous Region. It's a historical city with beautiful nature view. We believe that following the Wanda Realm Yinchuan's opening, the travel marketing will be much more active, and attractive. It is a stage to help Yinchuan travel industry become international professionalization. We believe Wanda Realm Yinchuan will be the hotel industry leading five-star luxury hotel, and the best choice for business or leisure. As a warm and comfortable resting place for business travelers alike, the Wanda Realm Yinchuan offers its guests unforgettable memories and unique oriental cuisine," said Mr. Christopher Adams, General Manger of Wanda Realm Yinchuan.