Wanda Realm Hotel makes its debut in Beijing
Jan 16,2014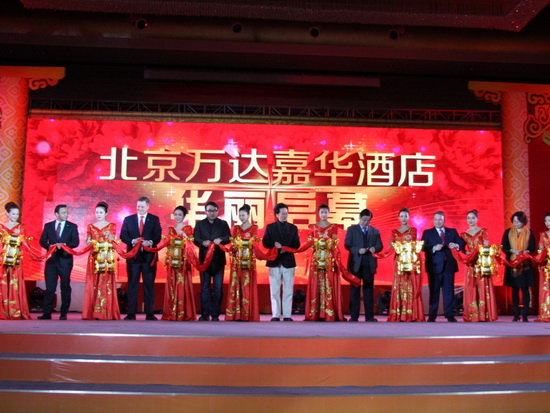 Wanda Hotels and Resorts announced the debut of its eleventh Wanda Realm hotel in Beijing on January 1 2014.
The property, which was previously managed by Accor Group under the Pullman Hotels brand, will be re-branded by Wanda Hotels and Resorts as the Wanda Realm hotel.
This is the first international hotel brand to be re-branded by Wanda Hotels and Resorts. As a warm and comfortable destination point for business travelers, the Wanda Realm offers its guests an unforgettable journey and unique experience.
The Wanda Realm Beijing is conveniently located on the Western extension of Chang'an Avenue, right at the heart of the Shijingshan commercial business district, also known as the "Shijingshan CBD", which is in turn part of Wanda Plaza and the central CRD. The hotel is conveniently located 45 minutes' drive from Beijing Capital International Airport, 20 minutes from Tiananmen Square and 25 minutes from Beijing South Railway Station. The location offers easy access to the city's finest shopping and entertainment locations. Whether you are visiting for business or leisure, Wanda Realm's opulent guestrooms, luxurious facilities and signature "Angel's Welcome" will ensure you feel at home from the moment you arrive.
The hotel's 312 chic guest rooms and suites are an oasis of comfort and style. Starting with a spacious 38 square meter room, each guest room enjoys complimentary WiFi coverage and our signature "Bed of Realm" and "Dream Catcher", as well as floor-to-ceiling windows offer breathtaking views of the distant Xishan mountains and surrounding urban landscape. The sumptuous bathrooms offer separate baths, rain-forest shower, and other luxury amenities. At Wanda Realm Beijing, we guarantee you a relaxing and inspiring experience that is unmatched anywhere else.
Wanda Realm Beijing offers numerous world-class restaurants that assure to delight even the most discerning of palettes. Café Realm has live cooking stations, and features a wide range of international and local cuisine, including its signature "Takeaway Breakfast"; Old Shanghai features Shanghai delicacies and exquisite Cantonese cuisine and the elegant Lobby Lounge is the ideal place for a cup of coffee, a pleasant afternoon tea or even a light meal. "24hrs Selections" in-room dining is also available around the clock. The hotel's signature "Cha Journey" under the guidance of our in-house tea expert, provides the true Wanda Realm experience.
Wanda Realm Beijing offers a varied selection of fully-equipped meeting rooms, including the spectacular 1,400 sq.m China Grand Ballroom. All venues are stylishly equipped with advanced multimedia presentation and videoconferencing facilities, as well as complimentary high-speed WiFi. For your convenience, a one-step "Executive Meeting Director" and "Wanda Romance Wedding Ceremony" service are also available.
Our state-of-the-art fitness facilities, which include an elegant indoor heated swimming pool and Health Club, provide a relaxing place for business travelers to escape and unwind.
The much anticipated and celebrated opening of Wanda Realm Beijing is a milestone for the corporation and represents a new shift in development.