Wang Jianlin named China Culture Industry's Persons of the Year
Jan 20,2014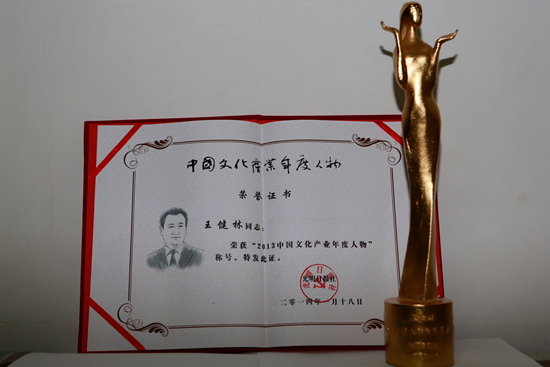 Wanda Group Chairman Wang Jianlin and 9 other individuals were honored for their outstanding contributions to China's culture industry in 2013 in Beijing on January 18.
The China Culture Industry Persons of the Year is organized each year by the Guangming Daily, awarding those who have involved in landmark events that have re-shaped the culture industry.
Winners for 2013 are as follows: Wanda Group Chairman Wang Jianlin, Enlight Media President Wang Changtian, Tang Dynasty West Market Culture Industry Investment Co Ltd Chairman Lv Jianhong, USTC iFLYTEK Co Ltd Chairman and President Liu Qingfeng, China Arts and Entertainment Group Chairman Zhang Yu, China Cultural Industry Association President Zhang Bin, Shanghai Century Publishing Group President Chen Xin, StarTimes Group Chairman Pang Xinxing, Zhejiang Huace Film & TV General Manager Zhao Yifang and China South Publishing & Media Group Chairman Gong Shuguang.