AMC named one of 'The Best Dine-In Theatres in America'
Feb 24,2014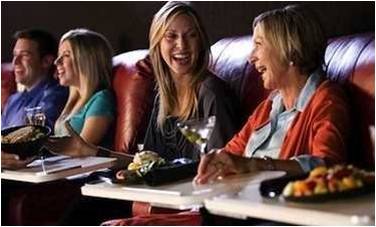 AMC's drive for strengthening its position of being the Guest Experience Leader is rooted on continuing to evolve the moviegoing experience; after all innovation is part of its guiding principles. One of the game-changing concepts that the company has developed has been its Dine-in Theatres and recently those locations helping to boost guests' comfort and convenience garnered some national recognition in the US.
Last week, The Credits, a digital magazine by the MPAA that highlights the "unheralded makers and creators of the movie and entertainment industry," tabbed AMC, a subsidiary of the Wanda Group, as one of the 10 "Best Dine-In Theatres in America."
As Credits author Nick Friedman points out, "Whether you call it food and a flick or dinner and a movie, the trend of cinemas offering a full menu with a ticket to the silver screen is red hot right now. Most, if not all, understand the value of a good libation. The 10 theatres ... run the gamut of service, but all have personal touches that make them stand out from the crowd. We call them, cinemas off the eatin' path."

"AMC has the movie and dinner deal down to a civilized science. Like some others in this franchise line, Columbus offers two dining options: the casual 'Fork & Screen' for all ages (under 18 requires an adult), and the premium 'Cinema Suites,' for 21+ featuring luxury recliners. Both have reserved seating and seat-side service. The menu is massive: burgers, pizza, salads, tacos, popcorn (free refills) and a full cocktail bar. Big bonus in Columbus: IMAX. More gravy with your GRAVITY, sir?"