Hurun: Wanda Chairman Wang Jianlin is Greater China's 2nd wealthiest
Feb 25,2014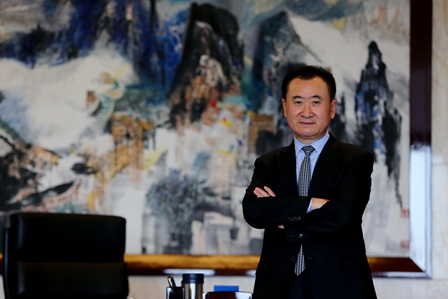 Wanda Group Chairman Wang Jianlin has emerged as the second wealthiest person in the Greater China region with a fortune of 150 billion yuan ($24.5 billion), according to the 2014 Hurun Global Rich List released by the Hurun Research Institute on February 25.
Li Ka-shing, the Hong Kong business magnate, topped the list with a fortune of 200 billion yuan.
A total of 1,867 individuals whose net worth exceeds $1 billion made the Hurun list. Bill Gates edges out Mexican billionaire Carlos Slim for the first time in three years, becoming the world's richest tycoon after his net worth increased by 70 billion yuan to 410 billion yuan over the past year. Warren Buffett and Amancio Ortega, the founder of Zara, ranked the first and second runner-up, respectively.
86-year-old Li Ka-shing continues to be the richest tycoon in China and Asia, with assets amounted to 200 billion yuan. Li is ranked as the 12th richest in the world.
Wanda Group Chairman Wang Jianlin, with a fortune of 150 billion yuan, becomes the richest in the Chinese mainland, the second richest in Great China region, and the 26th richest in the world, surpassing Lee Shau Kee, who also made his fortune from commercial property and ranked second in last year's Greater China list.
Wanda Group has invested heavily in cultural tourism in recent years. In September 2013, an investment of 50 billion yuan was announced to build the Qingdao Oriental Movie Metropolis, and Wang Jianlin is on the verge of investing billions of yuan to build a large-scale cultural tourism city in Wuxi that is set to rival Shanghai's Disneyland.
Judging from Hurun's most recent Global Rich List, the total net worth of all individuals on the list equates to $6.9 trillion, which is higher than the entire GDP of the world's third largest economy Japan. The average age of an individual on the list is 64, compared to last year's 63. In addition, 10% of people on the list are females, an increase on 2013.
Asia has 824 billionaires, which is more than any other continent and majority are engaged in the real estate business. There are currently 457 ethnic Chinese billionaires, which is 108 more than last year and now accounts for 24% of the world's billionaires. Broken down, there are 291 billionaires in the Chinese mainland, 64 in Hong Kong, 37 in Taiwan, 2 in Macao and 63 residing overseas. There are a total of 7 ethnic Chinese individuals in the top 100 rich list.
"The global status of Chinese entrepreneurs has clearly been elevated. The proportion of Chinese High Net Worth Individuals on this year's Global Rich List is equivalent to the proportion of China's population relative to the world population", commented Hurun, Chairman and Chief Researcher of the Hurun Rich List.