Wuxi Wanda Cultural Tourism City breaks ground, to rival Disneyland
Feb 28,2014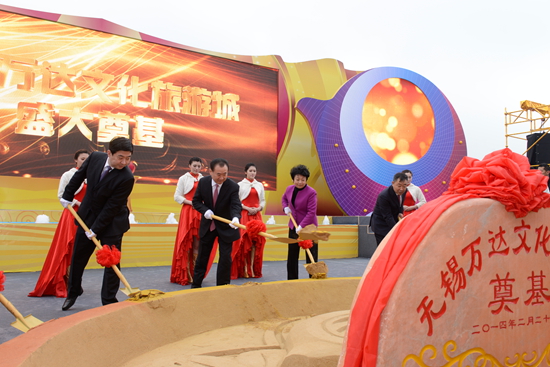 Leaders lay the foundation stone for the Wuxi Wanda Cultural Tourism City project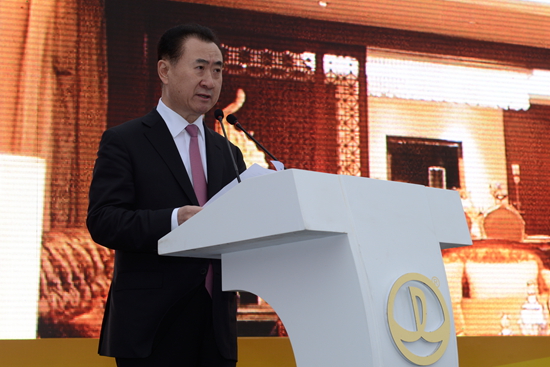 Wanda Group Chairman Wang Jianlin makes a speech at the groundbreaking ceremony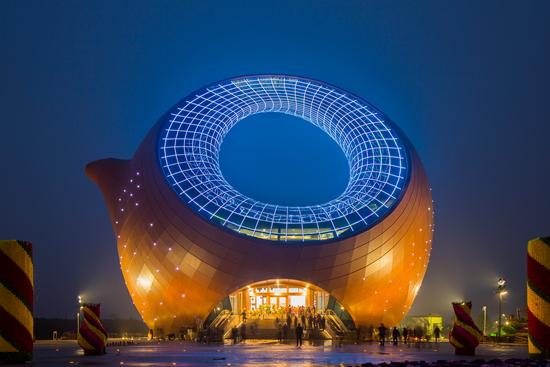 The panorama of the exhibition center
The Wuxi Wanda Cultural Tourism City, funded by a total investment of more than 40 billion yuan form the Wanda Group, broke ground in Wuxi on February 28. It is Wanda's fifth large-scale cultural tourism project to begin construction.
More than a hundred of dignitaries, including Wuxi Party Secretary Huang Lixin, Wuxi Mayor Wang Quan and Wanda Group Chairman Wang Jianlin, attended the groundbreaking ceremony.
Located in Binhu District, the project site covers 202 hectares with a Gross Floor Area of 3.4 million square meters. Out of the 40 billion yuan total investment, 21 billion yuan will be allocated towards developing the project's cultural tourism component.
The Wuxi Wanda Cultural Tourism City will integrate cultural, tourism, commercial and hotel functions into one mixed-use development
The cultural development will include the Wanda Mall, a large stage show, a large outdoor theme park, a resort hotel cluster and a bar street.
The Wanda Mall, a super-large indoor tourism complex, will provide recreation and fun with its film tech park, children's theme park, indoor water park, skating rink and film city.
The world-class design of the City fully represents the local cultural elements. Many projects in the City is innovative and unique in the world. For example, the exhibition center resembles a Yixing clay teapot. It is the world's biggest clay teapot-shaped building with a height of 38 meters, diameter of 48 meters and gross floor area of 5,000 square meters.
The stage show, featuring Wuxi's local culture, is to be directed by world famous theater artist Franco Dragone. The film tech park's 3D motion theater and a 3D interactive cinema will stage ancient local myths.
The world's first indoor children's theme park will feature a number of interactive children's areas such as a Space Experience Center and a professional Experience Center. The indoor water park will showcase the latest cutting-edge water park technology, while the entire park will contain numerous one of a kind equipment and installations that will be individually customized to meet specific requirements. The park will be home to China's highest rollercoaster, at 150 meters and China's fastest rollercoaster, at 200 Km/h. The outdoor theme park's landscape design will draw inspiration from local customs and traditions.
Wuxi Wanda City will feature a hotel area with six resort hotels, including one 6-star luxury hotel, one 5-star hotel, two 4-star hotels, and 2 themed hotels, with a total of 3,500 rooms and 5,000 beds. A lakeside bar street will be developed on a 20,000 square meter plot of land, which is expected to integrate over 20 different leading leisure and entertainment brands.
The project, which is scheduled to open in 2017, will create more than 30,000 jobs and bring in over 20 million visitors annually, while generating 5 billion yuan in sales revenues.
"The Wanda City will play an integral role in helping the city of Wuxi to speed up development of its culture and tourism sectors," according to Wang Quan, Mayor of Wuxi.
"Wanda is confident that the Wuxi Wanda City will become a world-class Chinese cultural brand and compete closely with Shanghai Disneylnd on a number of levels such as number of visitors and revenue scale,"said Wanda Group Chairman Wang Jianlin.