Wanda Group holds annual supplier convention
Mar 03,2014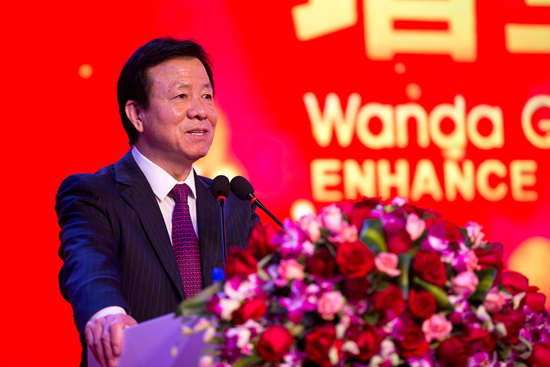 Group CEO Ding Benxi addresses suppliers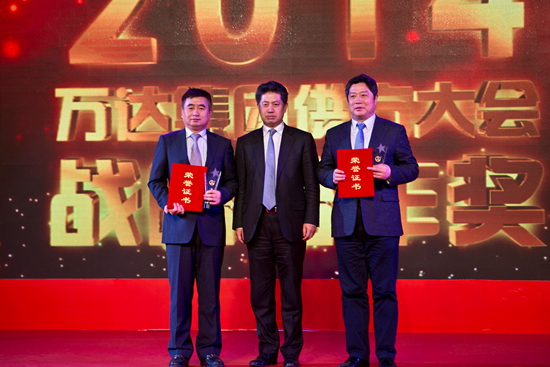 Wanda Commercial Properties Executive President Qijie presents awards
Wanda Group held their 2014 annual suppliers convention at the Sofitel Hotel in Beijing on February 28. Suppliers from all industries such as construction, equipment and materials and services attended the convention. Wanda Group CEO Ding Benxi, Commercial Properties Executive President Qijie and other senior Wanda representatives, as well as Chairman of China Construction Second Engineering Bureau Chen Jianguang, Chairman of China Construction Eighth Engineering Bureau Huang Kesi, Chairman of China Construction First Engineering Bureau Luo Shiwei and Chairman of China Construction Fourth Engineering Bureau Chang Yehao, all attended the convention.
This is the second time Wanda has organized a large-scale supplier convention. The meeting is convened each year to deepen understanding and strengthen relationships between old and new suppliers as well as to create a platform for communication. 2014 has seen 394 new brands added to Wanda's supplier mix, which represent a total of 1222 individual suppliers across 92 different categories.
Group CEO Ding Benxi began the convention by giving a warm welcome to all strategic partners in attendance. He added that "The scale of Wanda's business is increasingly growing, growth targets are consistently changing, scale of innovation is always changing, key points which are all directly dependent on the level of support provided by Wanda's strategic partners. Wanda greatly values it's strategic partner relationships and will strive to further incentivize "star suppliers" by providing more chances to cooperate in the future.
Chen Jianguang thanked Wanda for their continued support on behalf of all suppliers, which was followed by a speech by the General Manager of the Cost Management Center Han Yang. Wanda presented awards to 13 suppliers including China Construction Second Engineering Bureau, China Construction Eighth Engineering Bureau, Hitachi elevators and others.
The convention was divided into individual meetings in the afternoon between suppliers from engineering, supervision and design fields to discuss issues such as planning, quality, supplier information systems.